Sennheiser SKM 6000 BK Overview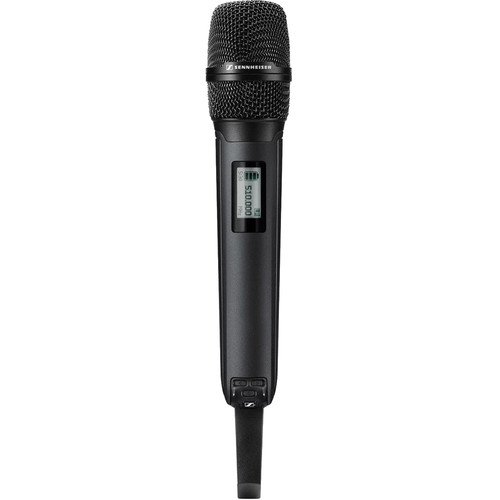 The black Sennheiser SKM 6000 is a professional digital handheld wireless microphone transmitter compatible with Digital 6000 Series receivers. It features an interchangeable microphone capsule design and is offered without a capsule, so you can choose the mic that works best for you. It even accepts famed Neumann capsules, revered by vocalists and performers worldwide.
Designed to work with the EM 6000 receiver, the transmitter can also be combined with Digital 9000 and EK 6042 receivers operating in long-range (LR) mode. Either a BA 60 rechargeable battery pack or a B 60 battery case with two AA batteries is required for powering (both available separately). The BA 60 powers the unit for approximately 5.5 hours.
With lightweight, yet durable, magnesium housing, the user-friendly SKM 6000 delivers pristine, top-tier digital sound quality and uncompromising reliability for high-profile sound-reinforcement applications in theaters, corporate installations, broadcast studios, and music venues.
Mission-Critical Performance for Live Productions
Sennheiser Digital Audio Quality
The Digital 6000 Series uses a Phase Shift Keying (PSK) transmission scheme, along with Sennheiser's Long Range mode (with proprietary SeDAC audio codec), for pristine digital audio.
 Rock-Solid Reliability with More Channels
The Digital 6000's Intermodulation-free transmission allows for operation in an equidistant frequency grid for more channels at once and worry-free signal stability, even when transmitters are close to each other on stage.
The extended 88 MHz switching bandwidth provides extra flexibility to find more available channels in challenging RF environments.
Stage-Ready Magnesium Housing
Specially designed magnesium housing means the handheld transmitter is not only lightweight, but tough enough to handle the rigors of even the most intense performances.
Encryption
AES 256 and Digital 9000 Series encryption options ensure private, secure transmission.
Interchangeable Mic Capsule Design with Neumann Options
The interchangeable capsule design allows you to choose the microphone that's ideal for your application and simply screw it onto the transmitter. Capsule options include the MMD 935, MMD 835, MMD 845, MMD 945, MME 865, MMK 965, MD 9235, ME 9002, and ME 9004 as well as the Neumann KK 204 and KK 205 (all available separately).
Compatible Receivers
EM 6000, as well as the EK 6042 and EM 9046 in Long Range mode
Simple Operation for Complex Productions
The menu-driven user interface with a backlit LCD is remarkably simple and intuitive.
The unit quickly syncs with a wireless receiver via infrared to receive channel, gain, low-pass filter settings, and more.
Adjust the mic gain in 3 dB steps from 0 to +62 dB for use with powerful singing voices or in quiet interview situations.
The low-cut filter can be turned off or set at 80, 100, or 120 Hz to reduce unwanted low-frequency noise such as wind and handling noise.
The automatic lock mode prevents accidental or unauthorized setting changes during events.