Sennheiser MD431-II Overview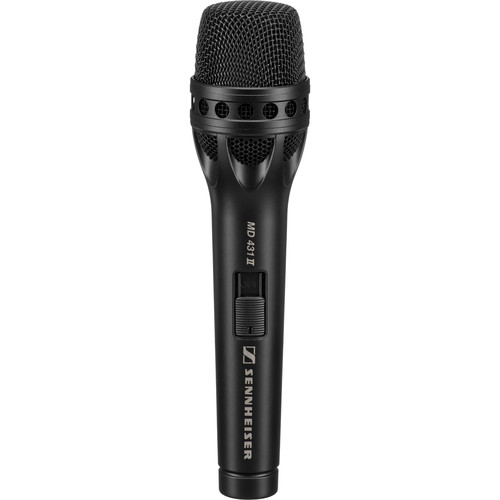 The Sennheiser MD431 II is a handheld supercardioid dynamic microphone offering an extended frequency response for reproduction of vocals and speech in concert venues, public address, houses of worship, and live stage applications. Its dynamic element requires no power source and delivers a frequency response of 40 Hz to 18 kHz. The supercardioid polar pattern excels at rejecting sound at its off-axis points, yielding enhanced immunity to feedback and low off-axis coloration. A hum-compensating coil aids in keeping extraneous electrical noise to a minimum.
The internal pop filter reduces plosives while the built-in shock-mounting system impedes handling noise and the durable, metal construction delivers tour-worthy toughness. A silent, magnetic on/off switch is provided for convenient muting of the mic between speeches or performances. The XLR 3-pin output ensures compatibility with most microphone preamps and mixer inputs. The MD431 II ships with a quick-release clamp for easy attachment to a mic stand.
Tight supercardioid polar pattern provides excellent off-axis rejection for superior gain before feedback and uncolored off-axis response
Shock-mounted capsule provides enhanced rejection of handling noise
High immunity to feedback
Integral pop filter reduces plosives
Rugged metal construction for tour-worthy durability
XLR 3-pin connector for compatibility with most microphone preamps
Silent, magnetic reed on/off switch allows convenient muting between periods of use