Sennheiser E835S Overview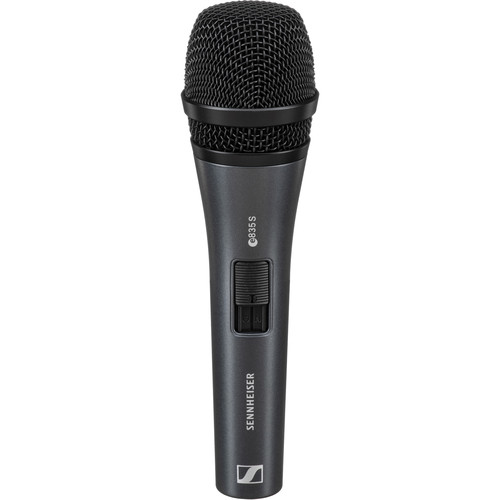 The Sennheiser e835S is a handheld cardioid dynamic microphone offering a frequency response tailored for clear reproduction of vocals and speech in concert venues, lectures, houses of worship, and presentations. Its dynamic element requires no power source and delivers a frequency response of 40 Hz to 16 kHz. The cardioid polar pattern rejects sound behind the mic, yielding enhanced immunity to feedback and decreased pickup of room ambience.
A hum-compensating coil aids in keeping extraneous electrical noise to a minimum while the durable, metal construction delivers tour-worthy toughness. A silent on/off switch is provided for convenient muting of the mic between speeches or performances. The XLR 3-pin output ensures compatibility with most microphone preamps and mixer inputs. The e835S ships with a mic clip and a protective pouch.
Cardioid polar pattern provides enhanced off-axis rejection and high gain before feedback
40 Hz to 16 kHz frequency response with tight lows and present treble
Clear reproduction with strong presence cuts through high onstage levels
Sound remains clear and natural even at varying distances from the capsule
Designed to isolate handling noise
Rugged metal construction for tour-worthy durability
XLR 3-pin connector for compatibility with most microphone preamps
Silent on/off switch allows convenient muting between periods of use