Sennheiser E604 Overview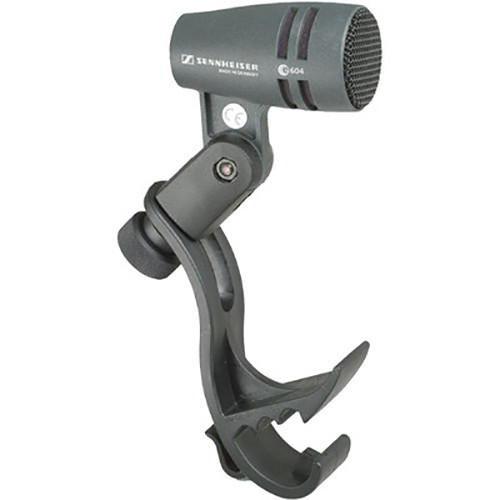 The Sennheiser e 604 Microphone is a rugged, cardioid instrument microphone that is specially designed to handle the high sound pressure levels of drums, percussion, woodwind, and brass instruments without distortion. It captures frequencies between 40 Hz and 18 kHz, doing so at sound pressure levels in excess of 160 dB without nasty distortion.
Based on the design of the well-regarded MD 421 microphone, the e 604 features a dynamic transducer, which does not require phantom power, and its cardioid polar pattern is effective in minimizing pickup and feedback at the off-axis sections of the capsule. An integral stand mount screws directly onto mic stands, but the included clip of the microphone attaches the microphone to the rim of a drum or the bell of saxophones. A slight bump between 4 and 5 kHz allows instruments to cut through the mix.
Key Features at a Glance
Based on MD 421 microphone design.
Compact dynamic microphone
Handles sound pressure levels of 160 dB and above without distortion
Impact-resistant fiberglass-reinforced housing
Simple handling and flexible positioning
Low sensitivity to handling noise
Humbucking coil
Integral stand mount