Sennheiser E602 II Overview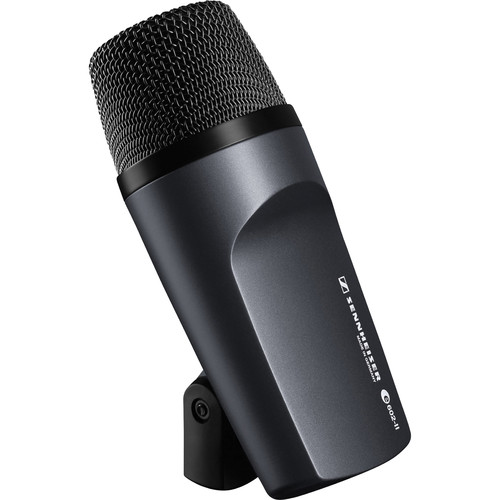 The Sennheiser e 602 II is a cardioid dynamic instrument microphone offering high SPL handling, fast transient response, and extended low-frequency capture of instruments such as bass drums, bass guitar cabinets, tuba, and more in recording sessions and live stage applications. The microphone features a dynamic element with a lightweight voice coil and a built-in hum-compensating coil for picking up loud sources devoid of noise and distortion.
The cardioid polar pattern minimizes off-axis noise and feedback that might occur near monitor speakers or other instruments, making it ideal for use on stage or in the studio. With a frequency response of 20 Hz to 16 kHz, the mic is capable of reproducing sub-bass tones without sacrificing high-end definition. An integrated stand mount enables easy placement of the rugged, lightweight aluminum body, and provides a pivoting angle for optimal positioning. The e 602 II includes a pouch for safe storage and convenient transport.
Extended Low-Frequency Response
The e 602 II features a fast transient response and an extended low-frequency response down to 20 Hz, making it well suited for kick drum, bass guitar, and other low-frequency instruments
Cardioid Polar Pattern
With a cardioid polar pattern and frequency-independent directivity, the e 602 II provides isolation from nearby signals
Humbucking Coil
The lightweight high-performance voice coil and an integrated hum-compensating coil contribute to the microphone's low-noise output
Integrated Stand Mount
The integrated mount enables easy placement and positioning
Rugged Construction
Constructed with a lightweight and durable aluminum body, the e 602 II is ideal for rigorous use in live sound reinforcement applications as well as studio sessions