OpenGear Dual 1×4 12G-SDI Distribution Amplifier

The OG-12GDA-2×4 is an openGear compatible, state of the art 12G-SDI distribution amplifier. The incoming 12G-SDI signals on the dual input channels are automatically equalized and the outputs are automatically reclocked to four 12G-SDI outputs each. This dual input capability allows double the number of DAs in limited frame space. A 10x BNC rear connector module is included.
Designed for use in high density openGear 2RU frames including AJA's OG-X-FR frame, new DashBoard software support on Windows, macOS and Linux offers remote control and monitoring of the openGear architecture and provides convenient and industry standard configuration, monitoring and control options over a PC or local network.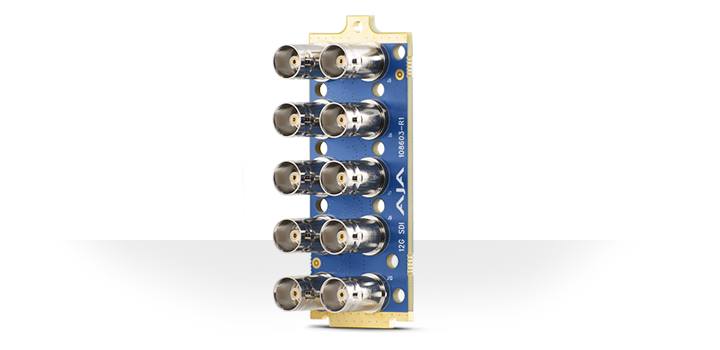 Connectivity
OpenGear Compatibility
The openGear standard ensures that AJA cards will be compatible with other openGear products from certified openGear partners. With a growing list of products, openGear is the future of rackframe products.

Flexible I/O
The modular rear panel allows custom I/O connections per card (included with individual cards).
Failsafe
The optional redundant power supply provides a secondary power source in the event of a primary power failure.
Ethernet Access
A standard Ethernet connection allows the frame to be accessed via the Dashboard application for overall frame communication. Optional per-card Ethernet access can be installed in the frame for advanced communication with compatible openGear cards.