AJA V2DIGITAL Overview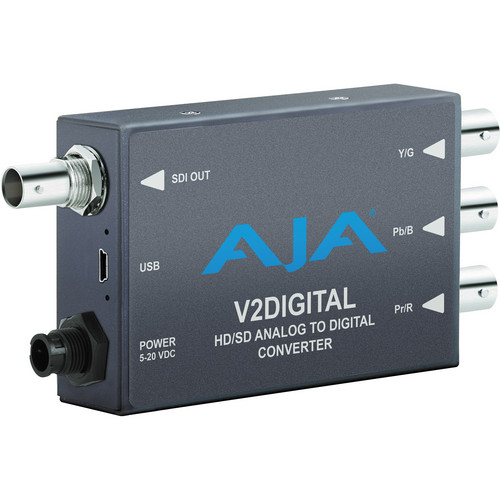 The V2Digital Component/Composite Analog to HD/SD-SDI Mini-Converter from AJA provides a 10-bit conversion of component or composite analog video to SDI at either SD or HD resolutions. It utilizes a full 10-bit data path and 2x oversampling to ensure a high-quality conversion. Its low power consumption and a compact size, makes it suitable for use on set or in AV installations that integrate different signal types.
The V2Digital supports NTSC, PAL, 720p at 50/59.94/60 Hz, 1080i at 50/59.94/60 Hz, and 1080psf at 23.98/24/25 Hz. The converter accepts YPbPr (SMPTE, EBU-N10), Betacam, or RGB component inputs, and NTSC/PAL or S-Video composite inputs. A 4-line Adaptive Comb Filter provides high-quality decoding of composite sources. The comb filter can be switched to 2-line or notch modes for minimum delay requirements.
Configure the V2Digtal using AJA's free MiniConfig software for Mac or PC over the USB 2.0 connection. The software provides an easy-to-use graphical interface with detailed information about input and output formats as well as all configuration parameters. Additionally, external DIP switches on the device let you configure the V2Digital without computer access. A universal 5 VDC power supply comes included.
Additional Features
AGC Mode
Color Bar Generator
Uses 5-20 VDC power