AJA IPR-10G2-HDMI Overview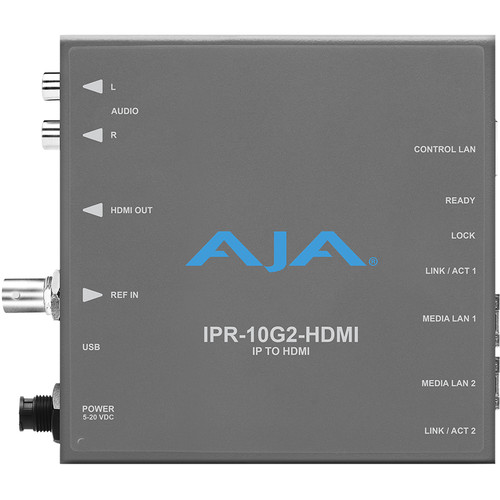 Decoding an HD SMPTE ST 2110 IP signal, the SMPTE ST 2110 IP to HDMI Mini-Converter from AJA enables you to monitor and output SMPTE ST 2110 video (RTP) and audio (AES67) over 10 GigE network connectivity.
Featuring two 10 GigE SFP+ cages that support optional SFP+ modules of your choice, the converter allows you to connect an IP signal, which it decodes and formats for source monitoring and HDMI output. Audio is output embedded as well as over L/R analog RCA jacks. The two SFP+ cages allow "hitless switching" so there's no loss of frame synchronization in critical applications. The converter has a compact, rugged, and fanless design suitable for use in studio and in the field.
Key Features
SMPTE ST 2110 audio and video receiver
HDMI 1.4b output
Supports up to 1080p60, 10-bit, 4:2:2 uncompressed
Rugged, fanless design
2 x 10 GigE SFP+ cages with status lights for media LAN, allowing hitless switching (SFPs not included)
1 x 1 GigE RJ-45 port (with a status light) for control LAN — IEC 60603-7 for 10/100/1000 Base-T Ethernet (IEEE 802.3-2012)
Full 10-bit pixel processing pipeline
Embedded HDMI audio output (up to 8 channels)
L/R RCA analog audio output
1 x mini-USB 2.0 port (IEC 62680-1) for initial network configuration with AJA eMini-Setup software
Complete control interface accessible on any Web browser from a built-in Web server
Customizable control with AJA REST API
HTTP/1.1 (RFCs 7230, 7231, 7232, 7233, 7234, 7235)
Video Input IP
Single-channel video input
SMPTE ST 2022-7 dual-stream input for hitless switching
Rx support for narrow/wide, gapped/linear modes
Audio Input IP
Up to 16 channels of audio, 24-bit per channel, 48 kHz synchronous (streams with up to 16 channels are received but only the first 8 are output)
1 ms or 125 µs packet interval
SMPTE ST 2022-7 dual-stream input for hitless switching
Video/Audio Output
HDMI 1.4b 24/30-bits per pixel
Up to 1080p60, 4:2:2, 10-bit, YCbCr/RGB
Up to 8-channel, HDMI embedded audio, 24-bit per channel, 48 kHz synchronous
L/R RCA analog audio levels at -10 dBu (nominal)
Reference
1 x BNC reserved for potential future updates
Discovery, Registration, and Control
NMOS Rx discovery and control according to standards IS-04 v1.2 and IS-05 v1.0
Ember+ control (no discovery, control only)
AJA REST API control (discovery via SSDP or MDNS)
Supported over dedicated management Ethernet port and in-band over media ports
IP Clock
PTP support compliant with PTP PTPv2 / IEEE 1588-2008
SMPTE ST 2059-1 compliant
AJA Recommended 10 GigE SFP+ Modules
Arista Networks SFP-10G-SR Compatible 10GBASE-SR
Fiberstore SFP-10GSR-85 10G SFP+ 850nm
Finisar FTLX1471D3BCL (for single-mode 1310nm)
Mellanox MFM1T02A-SR 850nm 10G
Maximum supported SFP+ power is 500mW per SFP+ cage