AJA RovoCam Overview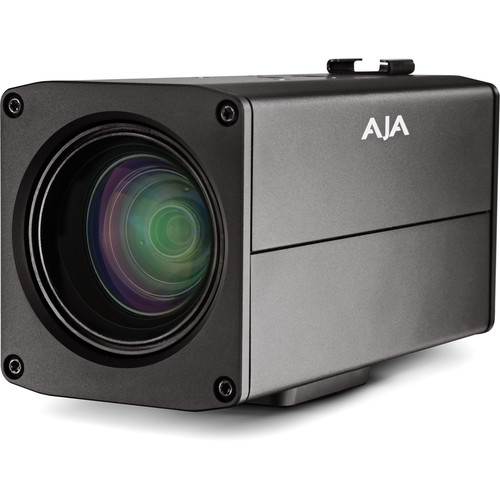 Designed for industrial, corporate, security, broadcast, and professional AV applications, the AJA RovoCam is a compact block camera that utilizes an HDBaseT interface to carry uncompressed UltraHD/HD video, audio, control, and power over a single Cat 5e/6 cable across distances up to 328′. By delivering all of this over a single cable, RovoCam aims to simplify camera installation, setup, and footprint requirements.
Performance-wise, RovoCam is built around a Sony camera module that features a 1/2.3″ 8.93MP backside-illuminated sensor and Sony image processor that combine to support UHD video at 25/29.97 fps and 1080p at 50/59.94 fps. It also features Sony optics with a 12x optical zoom range and up to 20x intelligent (Sony Super Resolution) zoom, which can be controlled remotely via Sony's VISCA protocol.
A single Cat 5e/6 cable is used to carry uncompressed video, 2-channel audio, RS-232 for VISCA camera control, and power. The separately available RovoRx-HDMI companion unit is the simplest receiving option for RovoCam, offering all necessary connections. For situations where you're not supplied power or RS-232 over HD-BaseT, the camera features does feature dedicated power and 3.5mm RS-232 connections, as well as a 3.5mm audio input for an plugging in an external microphone. A cold shoe mount on top of the camera streamlines external microphone mounting.
Housed in a rugged, machined-aluminum case, RovoCam is small in size and light in weight, making it easy to mount in wide range of scenarios, be it on a tripod using the included tripod mount, on stage in a conference room, or with a separately available security camera mount. For outdoor security use, it is compatible with Sony's SNC-UNIHB/1 Outdoor Housing.
HDBaseT
Integrated HDBaseT transmitter
Passes UltraHD/HD video, 2-channel audio, RS-232 control, and power to the unit over a single Cat 5e/6 cable
Distances up to 328′
UltraHD Video
Sony FCB-ER8300 camera module
1/2.3″-type, backside-illuminated 8.9 megapixel CMOS sensor
UltraHD (3840 x 2160) at 25/29.97 fps
1080p, 1080i, and 720p at 50/59.94 fps
Image Processor
Noise reduction (2D/3D)
Visibility Enhancer ICR (Day and Night) Slow AE
High Sensitivity
Gamma
Character Generator
Defog
Color Enhancement Picture Effect
Spherical Privacy Zone Masking
E-Flip
12x Sony Zoom Lens
Sony optics
12x of optical zoom
20x Sony Super Resolution Zoom
Manual and autofocus supported; controlled remotely via Sony's VISCA protocol
Camera Control
Flexible software and hardware support
Supports Sony's VISCA protocol over RS-232 carried over a Cat 5e/6 cable through HDBaseT, or via a local 3.5mm RS-232 connector
Housing
Rugged and durable machined-aluminum case
Small and lightweight
Tripod mount included
Shoe mount
Compatible with optional Sony SNC-UNIHB/1 Outdoor Housing
RovoRX-HDMI
Optional companion HDBaseT receiver
Integrated HDMI video and audio outputs
Supports uncompressed video, audio, power, and control over single Cat 5e/6 cable