AJA ROI-HDMI Overview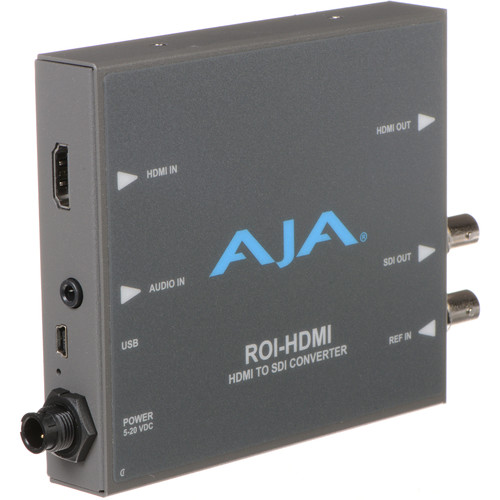 If you're using a computer with an HDMI output as a video source, the AJA ROI-HDMI Mini Converter allows you to select a region of interest and scale the output to fit your working resolution. Having ROI in hardware makes it easy to broadcast part of your computer's screen without the clutter of on-screen menus and the like. And because all the cropping and scaling is done using integrated hardware, video quality remains at a high standard. Embedded audio is passed through to the HDMI loop output and the SDI output. With the 3.5mm jack, you have the option of embedding analog stereo audio into the video output.
To adjust the ROI-HDMI, connect it via USB to a computer running AJA's free Mini-Config application. Using Mini-Config, all relevant settings can be changed with the intuitive GUI. A worldwide power supply is included and locks to the ROI-HDMI's power input for a secure connection.
Region of Interest (ROI)
Eliminate extra interface clutter and menu bars and extract only the portion of the computer screen you want. Use the included Mini-Config application to select the part of the frame you want to output and then choose how to scale the output resolution.
Conversion
Take full control of aspect ratio and frame rate conversion with on-screen controls in the Mini-Config software that show you what your source and output will look like and what formats are coming in and going out. Simple graphical menu controls let you quickly choose the proper output for any situation.
Audio
The converter accepts 2-channel audio from the 3.5mm analog audio input or embedded 8-channel audio from an HDMI input. The audio source and routing can be selected in the Mini-Config software and is embedded in the SDI output. This allows computer audio to be embedded within the SDI signal for easy, synchronized routing.
General Features
HDMI to SDI conversion
Region of Interest scaling
HDMI loop through
Audio embedding
Aspect ratio conversion
Genlock input
Configure via USB port and supplied Mini-Config software
Uses 5-18 VDC power (universal power supply included)