AJA OG-3G-AMA Overview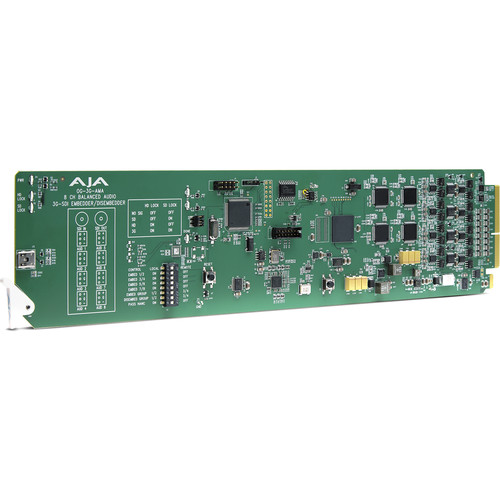 The openGear 8-Channel 3G-SDI Analog Audio Embedder/Disembedder from AJA supports 3G-SDI input and output up to 1080p at 60 Hz and automatically detects and configures to the input video standard. It uses 3-pin terminal block connectors that can be set to perform audio input or output functionality. Analog audio levels and audio embedding/disembedding are selectable on a channel-pair basis to pass 3G-SDI input audio or embed input analog audio from 3-pin terminal block connectors.
Designed for use in high-density openGear's 2 RU frames, DashBoard Software is supported on Windows, macOS, and Linux systems. It offers remote control and monitoring of the openGear architecture and provides convenient and industry-standard configuration, monitoring, and control options over a PC or local network.
8-channel balanced analog audio I/O
Controlled by DashBoard network control software and external DIP switch
8 x 3-pin terminal block connectors