AJA KUMO-CP2 Overview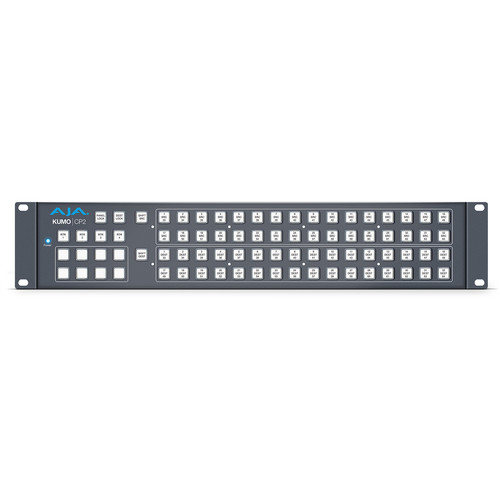 With AJA's KUMO CP2 Remote Control Panel, you can easily and intuitively control up to four AJA KUMO 1604, 1616, 3232, and 6464 routers over an Ethernet connection without the need for a computer. While individual ports can be routed, ganged dual and quad port routing also allows for dual and quad-link SDI routing for raw HD and 4K material.
Push-Button Interface
The KUMO CP2 features 80 buttons and enables selection of up to 64 sources and 64 destinations on each of up to four KUMO routers in standalone mode or through a built-in GUI accessible from any web browser on the network.
Multi-Router Configuration
Utilizing its Ethernet network connection, the KUMO CP2 can communicate with up to four KUMO routers anywhere on the network. This allows you to locate control panels wherever they are needed for optimal accessibility.
Simple Installation and Configuration
For standalone configurations with KUMO CP2, all KUMO routers can be connected together directly using standard RJ45 cables or through a network switch, if required. KUMO software will automatically detect and assign routers to control panel delegations so your routing system is ready for use immediately.
In a network environment, the built-in web UI provides all the setup controls to create exactly the configuration you require.
Custom Button Labels
Customize the KUMO CP2's buttons exactly to your needs. Use text labels and colored inserts to identify various sources, destinations and routers for quick and easy operation. To get you started, you can download a free lens chip template from the AJA website which can be color-printed and cut to create an insert for each button.
Light-gauge paper or film will be illuminated by the button for easy identification even in dark machine rooms or edit suites.