AJA KONA LHe Plus Overview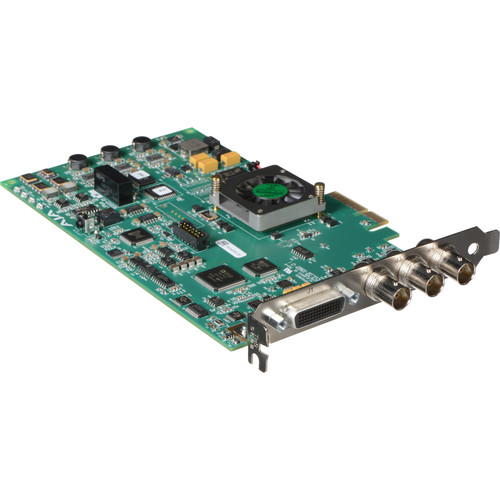 KONA LHe Plus from AJA is a broadcast-quality PCI card for Mac and Windows systems that offers an HD/SD-SDI input, dual SDI outputs, and a full complement of analog video and audio input & output connections via an included breakout cable. The card features genlock input and performs 10-bit down conversion from HD to SD. Because conversion is hardware-based, it's available upon both capture and playback.
Featuring BNCs for analog component, composite, and S-Video input & output, KONA LHe Plus supports an extremely wide variety of video systems. For instance, you can capture from an HDV deck or even a game console. For analog video connections, analog-to-digital conversion is 12-bit, for the highest-quality capture and playback. You can configure the dual SDI outputs independently of each other for SD or HD, so you can output to both a high-def and a standard-def monitor at once.
The PCI-Express I/O card supports most professional editing software programs for Mac and Windows systems, including Apple Final Cut Pro 7, Color, and Motion; Adobe Premiere, After Effects, and Photoshop; Autodesk Combustion, The Foundry Nuke, Sony Vegas, and Eyeon Fusion. KONA for Mac drivers integrate within the native software application being used, whether Final Cut Pro, Premiere Pro, or any other supported application.
Likewise for Windows systems, supplied AJA plug-ins integrated the card into a variety of applications, making KONA-driven features appear to be native to the host application's interface. Moreover, for Windows systems the included AJA Machine software includes full VTR machine control with access to any supported file format/video standard.
SD-SDI, HD-SDI, analog HD/SD input and output
12-bit HD analog component I/O
12-bit SD analog component or composite S-Video I/O
10-bit hardware HD-to-SD down conversion
Single SD-SDI or HD-SDI input
Dual independent SD-SDI/HD-SDI outputs
Two-channel balanced XLR AES and two-channel balanced XLR analog audio I/O
Eight-channel SDI-embedded audio I/O
HD/SD genlock input and RS-422 machine control
Support for Apple Final Cut Pro & Motion, Adobe After Effects, Autodesk Combustion, and more
Windows Software Features
KONA for PC Software
KONA for PC software allows Windows to access the hardware power of your KONA card within major editing and graphics applications. Other software vendors have also provided integrated support for KONA in their own PC applications through direct collaboration with AJA.You can play back and master material, at a variety of frame rates, on a high-resolution wide-screen monitor or digital projector. Custom AJA software allows full control over your playback parameters, which are clearly laid out, including provisions for choosing a user-specified LUT
Powerful Plug-Ins
Supplied AJA plug-ins integrate your KONA card into a variety of graphics/visual-effects software applications to make operations even easier to use. Using AJA plug-ins, sophisticated features appear as if they were native to the software application user interfaces. Directly supported applications include Adobe Premiere Pro, Adobe After Effects, Adobe Photoshop, Autodesk Combustion, and Eyeon Digital Fusion
AJA Machina Enhances All Workflows
KONA for PC software includes a standalone powerful capture / playback application, AJA Machina, that includes full VTR machine control with access to any and all KONA supported file formats, video standards and hardware conversions, presented in a very cool and easy-to-use interface. Machina supports all KONA for PC formats, including DVCPRO HD, QuickTime, DPX, and many others.Files captured from Machina can be imported into virtually any software package that supports these file formats, such as compositing programs, 3D animation programs, audio editing programs, and much more. Exported files from your application of choice can be seamlessly played out to the video and audio equipment of your choice.
Machina has great desktop preview features that allow you to preview your files full screen on your desktop display at various zoom levels, creating an alternative for frame-by-frame viewing when no additional monitor is available. In addition Machina allows you to apply 1D LUTs on output, to output video + key for monitoring or mixing, and to key in static graphics (on selected KONA cards).
This huge feature set makes Machina an invaluable Windows tool for film and video professionals, making it a useful addition to virtually any PC workflow
KONA for Mac Software
AJA KONA for Mac drivers are optimized for use on OS X, with applications and advanced AJA hardware capabilities controlled easily and at a glance in the application you're using. KONA for Mac software integrates within the native environment where used – whether Apple Final Cut Studio, Adobe Creative Suite, or several other major Mac applications
Final Cut Pro Features
Within Apple Final Cut Pro, KONA offers:
Easy setups for instant configuration of your workflow in unison with KONA hardware
Advanced hardware configuration from the AJA Control Panel can be accessed without leaving your application by simply holding down the command key and clicking into the UI. For example, play back HD media from Final Cut Pro and evaluate what an SD down conversion would look like as an anamorphic, cropped, or letterboxed output – all in real time without ever stopping playback
HDV codec hardware acceleration. The KONA hardware allows instantaneous real-time playback for both monitoring and recording. Even KONA's conversions work in real time with HDV, allowing SD monitoring, dubs, or mastering
DVCPro HD codec hardware acceleration. KONA's precision hardware allows capture and playback of HD-SDI video to and from the DVCPRO HD codec at a quality level virtually indistinguishable from native FireWire, while freeing up valuable RT processing power
Dynamic RT Extreme video scaling support. Dynamic RT Extreme video scaling is offloaded in real time to KONA as the "Playback Video Quality" dynamically adjusts. This allows more playback power – and because KONA handles it seamlessly, the Dynamic RT you see on the Mac monitor is the same as that shown on your professional broadcast monitor output from the KONA card
Adobe Creative Suite Features
Within Adobe Creative Suite, KONA offers:
Advanced AJA Plug-ins support, offering control of KONA using familiar controls and appearance within Adobe CS applications including Premiere, Photoshop, and After Effects
Real-time Photoshop broadcast video output to broadcast monitors
Real-time Capture, Display, and Mastering from within After Effects
Saved software rendering time with hardware-based KONA Up/Cross/Down Conversion
Native real-time support for file-per-frame formats such as DPX, Cineon, TIFF, TGA, and BMP
KONA Desktop Enhances All Mac Applications
The KONA Desktop feature allows broadcast design elements to be viewed with the proper aspect ratio and color depth on a broadcast monitor via the KONA card. KONA Desktop is available on the entire range of KONA cards, supporting Adobe After Effects, Photoshop, Apple Motion, Apple Shake, and more.Powerful AJA utilities, Easy Setups, and plug-ins round out the Mac environment, providing support for all popular Mac application workflows