AJA Kona HDMI Overview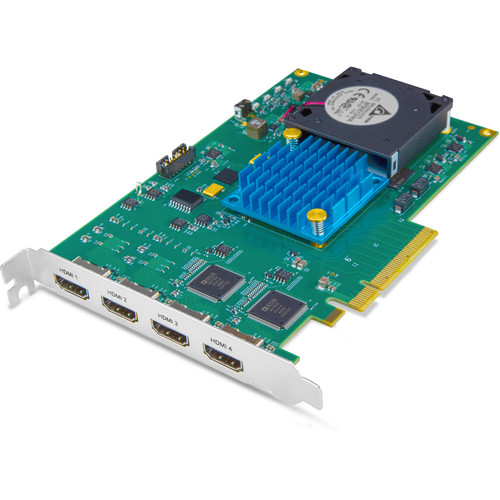 The AJA KONA HDMI 4-Channel HDMI Capture Card for Multi-Channel HD or Single Channel UltraHD is an 8-lane PCIe multi-channel HDMI capture card. Suitable for multiple workflows such as gaming, streaming, VJ-ing, live events switching, vlogging, VR, post, and broadcast, this powerful card boasts support for single channel capture up to 4K/UltraHD 60p or four-channel capture up to 2K/HD 60p.
KONA HDMI provides four full-size HDMI ports that can be used to switch, stream, or capture up to four channels of 2K/HD 60p via HDMI 1.4b with appropriate 3rd party software. It supports up to 8 channels of embedded audio per input for a total of 32 channels of audio, while supporting video from SD to DCI 4K (including HD and UHD) at up to 60p 4:2:2 10-bit. Capture requires available software (not included).
Multi-Channel HD Capture and Streaming
KONA HDMI is well-suited to live streaming and switching with up to 4-channels of 1080p HDMI video capture. Connect up to 4x HDMI outputs from a mix of cameras, game stations, presentation systems, and more and switch between them seamlessly with optional software. The KONA HDMI can be utilized for live streaming and events production via Telestream Wirecast, vMix and other third-party software. It is also supported by both the AJA SDK as well as Video for Linux (V4L2), making it an excellent choice for developers of multichannel HDMI ingest, switching, monitoring, and communication solutions.
4K/UltraHD Capture up to 60p
KONA HDMI offers unique and powerful single channel 4K/UltraHD capture all the way up to 60p over HDMI 2.0. For single-channel capture, you can download for free the AJA Control Room software, which allows you to capture and create digital media for use in your editing or effects package of choice.
HDR
The KONA HDMI provides support for accepting HDR signals captured over HDMI from gaming stations like the PS4 Pro.
Extensive Software Support
AJA hardware is supported by an extensive list of professional software for editing, visual effects, graphics, streaming, and more allowing the same AJA device to be used by many different applications on the same system. In addition, AJA provides several free applications that enable you to utilize the power of your AJA hardware even without having to run a particular software package.
OS Compatibility
KONA HDMI is compatible with macOS, Windows, and Linux.