AJA Ki Pro GO Overview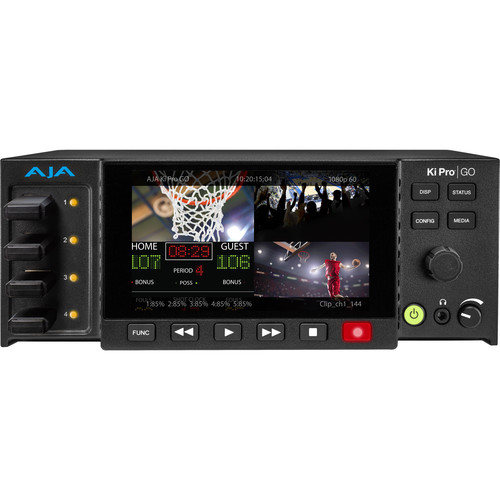 Continuing the proven Ki Pro lineup, the portable AJA Ki Pro GO provides up to four channels of simultaneous HD/SD recording plus one backup to widely available USB drives. This rack-mountable unit's four 3G-SDI and four HDMI inputs record up to 1080p60 video. The inputs are genlock-free, suiting them for use with a variety of SDI, DSLR, mirrorless, and HDMI cameras. Firmware update v1.5 offers timecode playback and pass-through via SDI input with support for both time-of-day and timecode values. This update also improves overall stability, removes the 240-minute recording limit, and enables user-selectable primary and backup recording destinations.
This versatile recorder enables you to choose independent profiles including up to 25 Mb/s bit rates and 8- or 10-bit color for each channel. H.264 video can be recorded with .MP4 or .MOV containers as you choose. Assign four ISO or any combination of channels to the four recording channels while the fifth channel provides a redundant recording of all channels simultaneously. All the recording slots provide USB 2.0 to USB 3.1 Gen 2 compatibility, a 5V 1A maximum current, and FAT16/32/exFAT compatibility.
Assign embedded 2-channel audio or balanced XLR-input analog audio to any of the recording channels. Multichannel matrix monitoring is provided for viewing your multicamera images on the integrated 1280 x 720 screen or an external screen via the HDMI monitor output. Two redundant 4-pin XLR inputs secure against accidental power loss, or the failure of one power input during your live event. For remote truck or machine room use, remote control is available using a LAN Ethernet connection and any web browser on any OS. An integrated handle can be used to carry the Ki Pro GO as a portable unit.
Firmware Update v1.5 Features
Support for RP-188 timecode inputs via SDI
Time-of-day and timecode values are now supported for both playback and pass-through
Primary and backup recording destinations are now user-selectable
240-minute recording limit has been removed
Overall stability of the recorder has been improved
HDMI and 3G-SDI I/O, USB 3.0 Recording
Four HDMI Type A 1.4a inputs
Four 3G-SDI BNC outputs
Assignable mapping to four recording channels
Records to widely available USB media
Five USB 3.0 slots; four recording plus one backup
H.264 Recording and Playback
Multichannel recording, single-channel playback
Selectable high, medium, and low variable bit rates
5 to 25 Mb/s assignable bit rates
8 or 10-bit HD/SD video image quality
Selectable 4:2:2 and 4:2:0 chroma subsampling
.MP4 or .MOV codec containers
Works with any H.264 playback platform including software players and OTT services
Intuitive Interface, Multichannel Monitoring
Multichannel HDMI and SDI matrix monitoring
Easy-to-use web UI can be configured and controlled from a standard web browser
Front-panel buttons and an integrated HD display screen
Standalone operation