AJA HD10MD4 Overview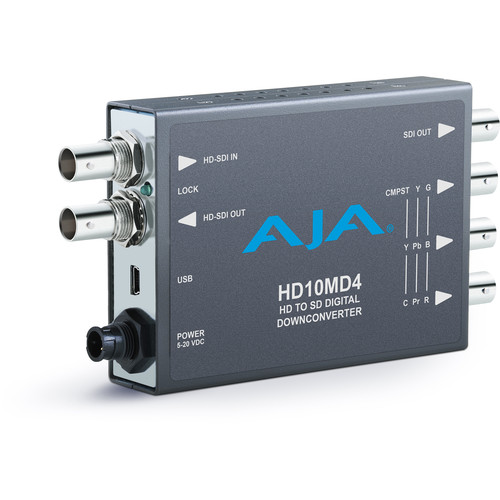 The HD10MD4 down-converts HD-SDI video to standard definition SDI and analog component/composite video utilizing AJA's high-quality full 10-bit data path and multi-point interpolation to produce broadcast quality down-converted video.
Key Features
Configurable across USB via AJA Mini-Config software for Mac and PC
Low-cost digital HD down-converter
Dual-rate HD-SDI/SDI input
SDI output
Component/Composite output
HD-SDI loop output
Multi-standard Input Including 1080p and 1080psf 23.98 fps
10-bit data path, multi-point interpolation
Configurable for 16:9 or 4:3 output
Framerate conversion
The HD10MD4 converts 1080p 23.98 or 1080psf 23.98 to 59.94 output video using the standard 3:2 pulldown technique. The output can be formatted for either 4:3 or 16:9 standard definition monitors.
Pristine image quality
Utilizing a full 10-bit data path and AJA's high-quality scaling technology, HD10MD4 maintains the most detail possible to ensure a quality conversion at an extraordinary price.
Audio support
HD10MD4 takes four-channels of embedded HD-SDI audio and passes it to the SD-SDI output. Audio output channels are mapped to follow the input mapping for a 1-to-1 correlation between HD and SD.
USB and Mini-Config support
AJA's free Mini-Config software can be used with any USB-enabled AJA Mini-Converter and provides an easy-to-use graphical interface with detailed information about the current input and output formats. Control all the parameters of any supported AJA Mini-Converter as well as loading firmware updates from AJA that add new features and functionality.
Universal power supply
All AJA Mini-Converters ship with a universal power supply that includes international plug connections for use around the world.
Compact and portable
AJA Mini-Converters are small enough to fit behind a monitor, in the back of a rack or directly on a camera rig. A locking power connector can't accidentally pull loose and an optional P-TAP power cable allows for battery power in remote locations.