AJA FS2 Overview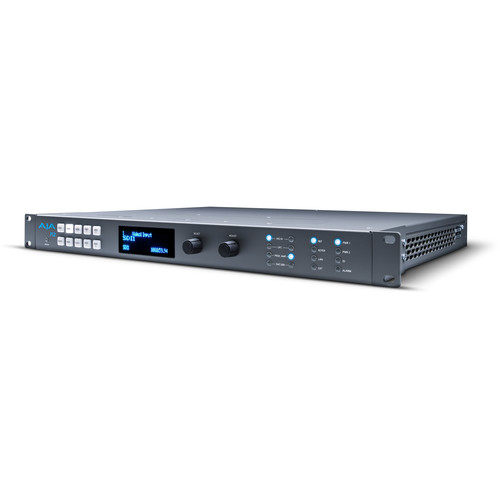 The AJA FS2 Dual Channel Frame Synchronizer and Converter supports two independent streams of 3G/HD/SD 10-bit Broadcast quality video and two independent groups of 16-channel AES audio simultaneously. Each individual video channel supports analog component or composite, 3G/HD/SD-SDI, Dual-Link, and HDMI I/O inputs/outputs. You can use the FS2 as two separate frame synchronizers/format converters, or the two channels can be linked with the internal keyer to do the work of multiple devices, such as HD sidebar keying where both the video and background graphics are up converted and combined. Each channel features still-store, keyer, and video proc amp/color corrector offering more expansion options.
Supporting a wide range of broadcast formats, the FS2 Frame Synchronizer and Converter can be used for applications such as broadcast facilities, production trucks, video and audio signal conversion, adaptation, timing, and processing. It supports down-conversion between HD/SD and cross-conversion between HD formats, including 3G 1080p50/60 formats. In addition, the FS2 features full input and output signal routing that allows any I/O port to be assigned to any of the processing channels.
Featuring two audio processors, with each processor supporting 16-channel AES/EBU digital audio, 16-channel embedded audio, and 8-channel balanced analog audio, the FS2 offers variety of audio control. It supports closed captioning indicating presence of closed captioning data in the video signal. In addition, the unit also supports conversion between SD and HD formats (including full conversion between CEA-608 and CEA-708 caption standards).
AJA FS units are network ready and supports SNMP monitoring and web-based remote control. They can be connected to any Ethernet network via the built-in 10/100/1000 Mb/s Ethernet port, allowing control and configuration of multiple FS units from any web browser on a connected computer. Configurations can be saved and applied to multiple units, ensuring consistency and quick configuration in large installs. For integration with existing automation systems, the FS2 can also receive external GPI commands to trigger a variety of functions, from freezing an input source to switching between saved presets.
Key Features
Supports two independent streams of 3G/HD/SD 10-bit Broadcast quality video and two independent groups of 16-channel AES audio simultaneously
Individual FS2 video channel supports analog component or composite, 3G/HD/SD-SDI, Dual-Link, and HDMI I/O inputs/outputs
Optional fiber inputs and outputs for cable runs up to 6.2 miles; supports single channel LC, single channel SC, and dual channel LCD connector modules
You can use the FS2 as 2 separate Frame Synchronizers/Format Converters for convenient operation
Can be used by combining channels like HD sidebar keying where both the video and background graphics are up converted and combined
Each channel features still-store, keyer, and video proc amp/color corrector offering more expansion options
Supports down conversion between HD/SD and cross conversion between HD formats (including 3G 1080p50/60 formats)
Features full input and output signal routing that allows any I/O port to be assigned to any of the processing channels
Dual video and audio processors
Each processor supports 16-channel AES/EBU digital audio, 16-channel embedded audio, and 8-channel balanced analog audio
Offers variety of audio control
Supports closed captioning indicating presence of closed captioning data in the video signal
Supports conversion between SD and HD formats (including full conversion between CEA-608 and CEA-708 caption standards)
Supports SNMP monitoring and web-based remote control
Can be used in any network
Supports a 3rd-party remote Control Panel (available separately) that offers web-based remote control over 10/100/1000 Ethernet via an internal web server
Supports a wide range of broadcast formats
Can be used for applications such as broadcast facilities, production trucks, video and audio signal conversion, adaptation, timing, and processing
Built-in front panel control
Buttons and rotary knobs for changing settings
Front panel LED status indicators for system monitoring
Four isolated TTL GPI inputs and outputs for contact closure control
Detects incompatible I/O format signal and notifies via alarms/status messages
Up-Conversion
Anamorphic: Full-screen
Pillar Box 4:3: Results in a 4:3 image in center of screen with black sidebars
Zoom 14:9: Results in a 4:3 image zoomed slightly to fill a 14:9 image with black side bars
Zoom Letterbox: Results in image zoomed to fill full screen
Zoom Wide: Results in a combination of zoom and horizontal stretch to fill a 16:9 screen; this setting can introduce a small aspect ratio change
Down-Conversion
Anamorphic: Full-screen
Letterbox: Image is reduced with black top and bottom added to image area with the aspect ratio preserved
Crop: Image is cropped to fit new screen size
Cross-Conversion
1080i to 720p
720p to 1080i
720p to 1080PsF
SD to SD Aspect Ratio Conversion
Letterbox: This transforms SD anamorphic material to a letterboxed image
H Crop: Will produce a horizontally stretched effect on the image; transforms anamorphic SD to full frame
SD Pillarbox: Will produce an image in the center of the screen with black borders on the left and right sides and an anamorphized image in the center
V Crop: Will transform SD letterbox material to an anamorphic image