AJA Corvid 22 Overview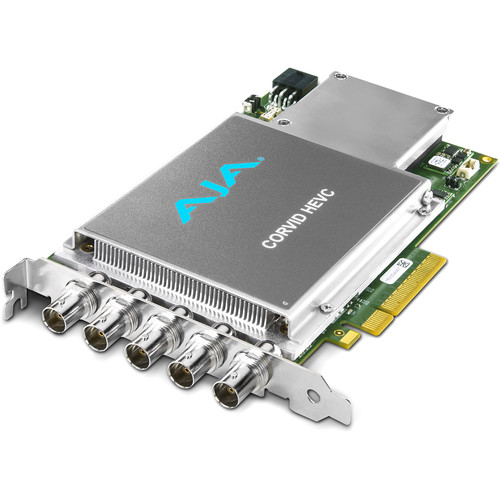 The Corvid 22 PCIe 4x Card from AJA is used to transfer 8-/10-bit YCbCr and RGB frame buffer formats with two independent channels for input and output, and supports digital 3G, HD, SD-SDI, and all SD/2Kx1080 input/output formats. It uses separate LTC, metadata, and RS-422 for each channel for capturing or playback of digital uncompressed audio and video, and is compatible with all Windows XP or higher and 32-/64-bit Linux operating systems via SDK (software development kit) environments. It also offers true broadcast-level performance.
Allowing output of two simultaneous video/key pairs over 3G using two mixer/keyer widgets, the Corvid 22 PCIe 4x card allows up to two simultaneous downstream keyers. It offers support for analog color black or HD tri-level synchronization, and includes two independent 16-channel 24-bit/48 kHz SDI embedded audio input/output engines. The PCI express card uses the API (application programming interface), which reduces the time required to develop when working on multiple platforms or multiple AJA cards. 1.0/2.3-to-BNC pigtail adapters and a breakout cable that supports LTC and RS-422 input/output are available separately.
Used to transfer 8-/10-bit YCbCr and RGB frame buffer formats
Two independent channels for input and output
Supports digital 3G, HD, SD-SDI and all SD/2Kx1080 input/output formats
Uses separate LTC, metadata, and RS-422 for each channel for capturing or playback of digital uncompressed audio and video
Compatible with all Windows XP or higher and 32-/64-bit Linux operating systems via SDK (software development kit) environments
Offers true broadcast-level performance
Allows output of two simultaneous video/key pairs over 3G using two mixer/keyer widgets
Allows up to two simultaneous downstream keyers
Offers support for analog color black or HD tri-level synchronization
Includes two independent 16-channel 48 kHz SDI embedded audio input/output engines
Uses the API (application programming interface), which reduces the time required to develop when working on multiple platforms or multiple AJA cards