AJA FiDO Overview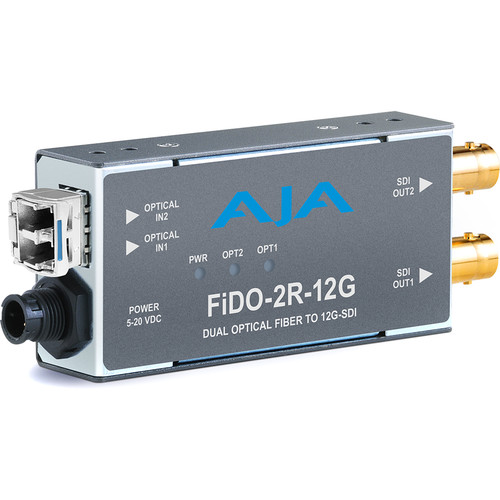 FiDO-2R-12G offers unmatched flexibility and cost efficiency for 12G/3G/HD/SD-SDI Fiber conversion, allowing for cable runs up to 10 km over standard single mode fiber optic cable.
FiDO converters use a compact, low profile enclosure that works well in tight spaces around and behind equipment racks, trucks and on camera.
Key Features
2-Channel Single-Mode LC Fiber to 12G-SDI Receiver
2 simplex or 1 duplex connection (LC connector)
2 independent channels of 12G-SDI output, which also support 6G/3G/HD/SD-SDI
Both Fiber-to-SDI paths are completely independent
12G-SDI from camera to fiber, edit and more
Explore how AJA's 12G-SDI solutions can simplify production and post workflows, providing ample bandwidth to handle high resolution, high frame rate and deep color content over a single cable.
Compact and portable
AJA Mini-Converters are small enough to fit behind a monitor, in the back of a rack or directly on a camera rig.